THE FLORENCE RESIDENCES
1410 HOMES
DESIGNED BY NATURE CREATED FOR WELLNESS
LOGAN SINCE 1996
About The Florence Residences (D19) fr $709,000 fr $1,218 psf, OCR Singapore

Florence Residences is a new and upcoming condominium located at Hougang Avenue 2, bounded by Upper Serangoon Road and Florence Road. It is between 2 MRT stations, namely Kovan MRT and Hougang MRT Station. It is a 99 years leasehold residential project in North-East Region of Singapore. Sitting on the former site of Florence Regency, Florence Residences has a large land site and will house approximately 1400 residential units.
Live in the heart of Kovan, a desirable enclave rich in connectivity, surrounded by amenities both old and new, that takes you to any part of the city within minutes. Standing at 18-storeys and comprised of 9 blocks, The Florence Residences is more than just a sight to behold, but a home that brings you closer to everything that matters the most.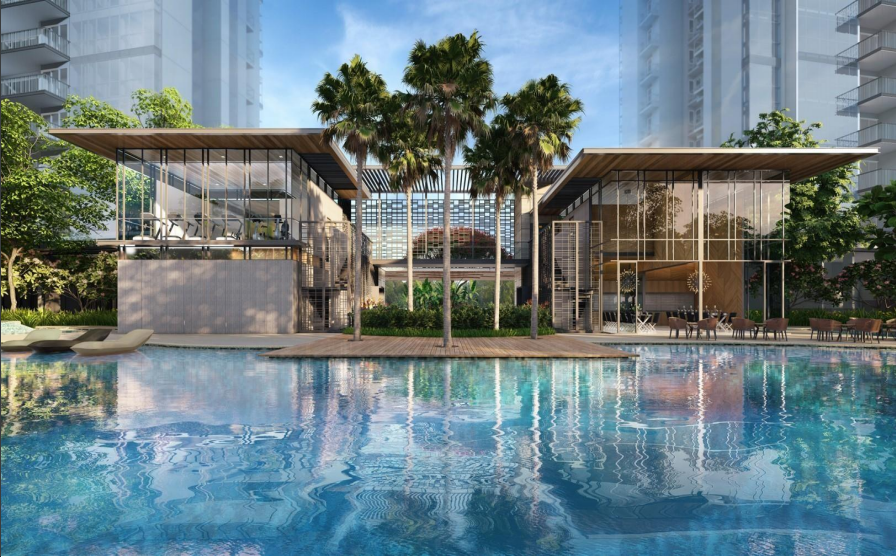 This modern condominium is developed by Logan Property and is designed to meet the needs of every family.
Biophilic by design, The Florence Residences creates quality spaces and design patterns, which go beyond aesthetics by incorporating natural green elements, giving you the freedom to connect and interact with nature. It brings about a mental state of balance and calm, as you feel a sense of closeness to the living things that surround you.
Inspired by the very essence of biophilia, discover a modern sanctuary of many organic curves. Wherein every turn is a lovely surprise that lets you experience something new each time, so you feel that you never really left nature.
ARRIVAL CLUB
From the moment you enter, let the invigorating sight of the lush landscaping welcome you. As you make your way inside the sophisticated Arrival Plaza, our resident concierge is always on hand to attend to all your lifestyle needs.
THE CLUBHOUSE
Designed to surpass expectations, The Clubhouse offers a haven of soulful relaxation with a playful twist of energy. Revel in a full complement of lifestyle facilities to refresh your day, host gatherings at the high-ceilinged Dining Suite or keep the kids entertained in the Theatrette with Karaoke and Jamming Studio. Join The Club and make time for life!
ISLAND CLUB
Enjoy over 15 remarkable facilities that capture the mystery of discovering a private island. With its meandering curved edges and islands of various sizes for different activities, the unique 80-metre Island lap pool with Sun Bathing Lawn and more brings the beauty of island living right in front of you.
WELLNESS CLUB
Nourish your wellness with refreshing outdoor spaces that let you get in touch with your inner chi. Relax the mind as you go through your tai chi moves every morning at the tai chi lawn. Bring your body and mind together at the yoga lawn, where you can meditate and rest the mind. Hang out and catch up with your friends at the chill out cabanas as you soak in the intimate ambience
HYDROTHERAPY CLUB
Explore a wonderful sanctuary that takes care of every part of your body. Immerse yourself in an onsen that completely soothes the senses. Try the exhilarating Aqua Bike that will help you remain fit while being submerged in water. Unwind after a very long day at the Hot and Cold Plunge pools to help replenish your energy
KIDS' PLAY CLUB
Enjoy an amazing place that gives the little ones the freedom to let their imagination run wild with excitement.
KIDS' AQUA CLUB
Dive into fun activities that let you and your kids enjoy many memorable moments spent together
YOUTH & FITNESS CLUB
Stay in your best shape ever as you put your skills to the test. This is the area that teaches you what being active is all about, perfect for the young and the young at heart.
G O U R M E T C L U B
Savour and create delectable dishes at the many dining pavilions that let you enjoy food from around the world. Sink your teeth into mouthwatering pasta and pizza at the Italian Pavilion. Have your fill of delicious Japanese cuisine such as sizzling seafood and meats at the Japanese Pavilion. Get a feeling of cooking in the great outdoors at the Outback Grill, where you can grill steaks and burgers to perfection. For wine aficionados and connoisseurs, head over to the Wine & Chill Pavilion, that allows you to indulge in great wine and food pairings.
TRANQUILITY CLUB
Overflowing with calmness and relaxation, you now have a private retreat to escape to every day, at your whim and fancy.
PASSION CLUB
Belong to a home that allows you to share common interests and form lasting friendships with others.
GARDEN CLUB
A thriving green haven for plant lovers everywhere, let your deep fondness for gardening grow here.
Project Details
Project Name

The Florence Residences (D19) fr $709,000 fr $1,218 psf, OCR Singapore

Type
Apartment / Condo
Classification
Condominium
Address
715 Hougang Ave 2, Singapore 530715
Site Area
389,236 sqft
Unit Type

1 Bedroom

1 Bedroom + Study

2 Bedroom + Study

2 Bedroom Classic

2 Bedroom Deluxe

3 Bedroom Classic

3 Bedroom Deluxe

4 Bedroom Classic

4 Bedroom Deluxe

5 Bedroom

Developer
Logan Property (SINGAPORE)
Development
9 blocks of 18 Storey residential with basement car parks
TOP
2023
Tenure
99 Years
Effective Date
December 24, 2018
No. Of Units
1410
Location
Nestled in a matured estate, Florence Residences will have all the amenities you require. And with Hougang MRT slated to be a interchange for the upcoming Cross Island Line MRT, buyers will be able to enjoy even more convenience.
Buyers looking to buy as an investment can look forward to renting out to potential future tenants working in the town itself.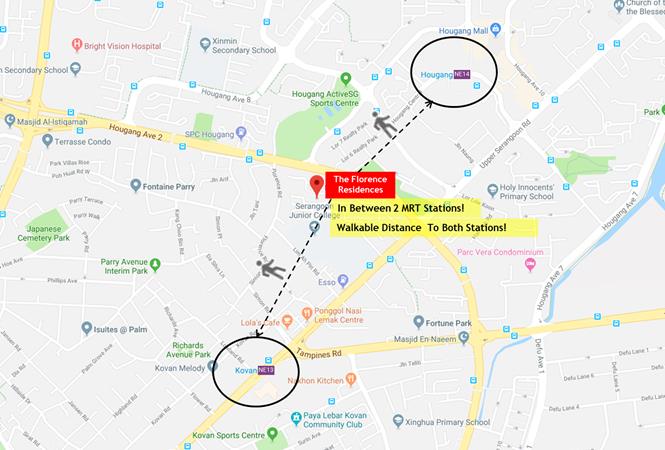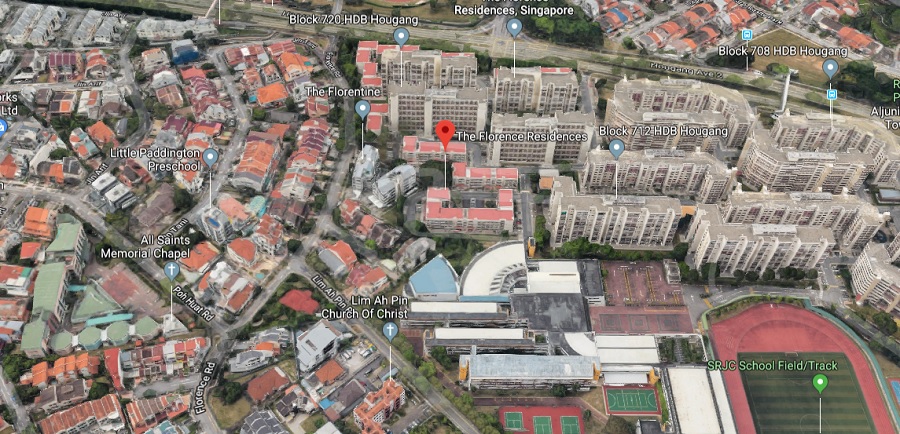 Florence Residences by LOGAN PROPERTY
Site Plans and Floor Plans
FLORENCE RESIDENCES LATEST UPDATES
Attractive Price Starting From $706,000
1 Bedroom (474sf – 484sf) From $706,000 (#01-81)
1 Bedroom + Study (517sf) From $785,000 (#01-02)
2 Bedroom Classic (624sf – 753sf) From $913,000 (#02-73)
2 Bedroom Deluxe (646sf – 753sf) From $986,000 (#02-14)
2 Bedroom + Study (700sf – 753sf) From $1,100,000 (#02-58)
3 Bedroom Classic (893sf – 1012sf) From $1,304,000 (#02-79)
3 Bedroom Deluxe (990sf – 1098sf) From $1,442,000 (#02-46)
4 Bedroom Classic (1270sf – 1356sf) From $1,762,000 (#03-12)
4 Bedroom Deluxe (1389sf – 1461 sf) From $1,921,000 (#03-62)
5 Bedroom (1668sf – 1679sf) From $2,456,000 (#03-21)
*Price above are subject to change without prior notice. All prices are upon request
Register your interest for The Florence Residences (D19) fr $709,000 fr $1,218 psf, OCR Singapore
KEEP IN TOUCH